Unoccupied Property Insurance
Protect What's Important
Unoccupied Property Insurance & Probate Insurance Service
Protect your empty or vacant property with Unoccupied Property Insurance. We offer competitive cover and outstanding service for your individual needs.
Unoccupied Property Insurance Overview
Unoccupied Property Insurance protects your home from inevitable risks when you are not living in it for more than 30 consecutive days or when it is not furnished enough to be normally lived in.
You will need Unoccupied Property Insurance when you find yourself in any of the following situations:
Awaiting probate
Awaiting sale or occupation
Undergoing refurbishment or renovation
You have a second home
You're temporarily away because

You are travelling
You have been hospitalised
You are taken into care
We look forward to hearing from you if you believe you need any of the below insurance products or other personal or commercial products.
Empty Property Insurance
A property is defined as empty or vacant when it is left without an occupant for more than 30 consecutive days or if it is not furnished enough to be normally lived in. If this is the case for your property, you will need Unoccupied Property Insurance.
Renovation Insurance
While your property is undergoing simple or major renovation, or conversion, you will need a specialised Renovation Insurance regardless of whether your property is occupied or not.
If you don't tell your insurance broker or insurer that your property is undergoing renovation, and continue to have your standard property insurance, you are unlikely to be fully covered. You may not even realise this until you need to report a claim.
The risk of something unexpected happening during renovation and especially when no one is living in it, is considerably higher. That is why you will need insurance specially designed for your circumstances.
Second Home Insurance
A second home is defined as a residence that you intend to occupy in addition to your primary residence for part of the year. This could be your holiday home, or a flat or house in the city you work in.
Second Home Insurance provides specialised coverage for individuals who own second homes that are left empty for long periods of time. This policy can come with public liability insurance if it is rented out or left to the use of friends or family. If it is not rented out, you have the option to include coverage for loss of rent or income at a particular cost.
Awaiting Sale Property Insurance
Is someone living in your property that is on the market? If the answer to this question is 'No', you can benefit from Awaiting Sale Insurance since it is highly likely that it will take longer than 30 days to complete the sale of your property.
Awaiting Sale Insurance provides the protection you need for your unoccupied property until your property is sold.
Probate Insurance
Probate is the legal process by which a deceased person's property, known as their "estate," is passed to the heirs and beneficiaries.
When a loved one passes away, his or her property enters probate. As the legal process tends to be quite lengthy, it's important to make sure the deceased's estate is well cared for and inspected regularly.
The existing insurance policy for the property may no longer be valid. A Probate Insurance may be necessary for the unoccupied property
Probate Insurance provides protection as you wait for the probate process to be completed. We got you covered whether you are an executor, beneficiary, or legal heir who may suffer pecuniary loss in case the property under probate suffers damage from the covered perils.
At the heart of every policy, is a personal relationship, built on a foundation of honesty, integrity and professionalism.
We See People, Not Policies.
3 levels of Unoccupied Property Insurance
We offer 3 levels of protection depending on your situation and needs.
1. Unoccupied Level 1 FLEEA only
Includes basic cover for damage caused to your home as a result of fire, lightning, explosion, earthquake and aircraft.
2. Unoccupied Level 2 Full Perils
Provides financial protection from full perils excluding escape of water, theft, attempted theft and malicious acts.
3. Unoccupied Level 3 Full Perils
Includes full coverage against all perils subject to underwriting criteria.
How can we help with your Unoccupied Property?
Some insurers are very wary of insuring unoccupied properties. With our expertise, knowledge and special relationship we have built with top insurers over years, we are usually able to find competitive cover for your unoccupied properties.
We aim to find you the competitive solution you need for your unoccupied property by fully understanding your situation and needs to ensure you are not over or under insured, thus saving you valuable time and money.
The nature of the above circumstances makes it difficult to know exactly when your property will be occupied again. This uncertainty, however, is what our insurance specialists are familiar with, making it very easy for you to obtain the most suitable insurance policy at a competitive price while benefiting from our outstanding service.
Do you need Unoccupied Property Insurance? Call our friendly, professional specialists  on 01753 882222 or Request a Callback. We are  here to help with all your insurance needs regardless of how complex they are.
OUR HEAD OFFICE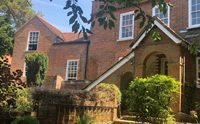 Monday – Friday:  9.00 AM – 17.00 PM – We also provide 24/7 out of hours answering service.
Why Choose Fairweather Insurance?
At Fairweather Insurance, we pride ourselves on providing an Outstanding Service with a Personal Touch. We have been finding solutions to even the most complicated insurance requirements for over 35 years now.
Our experienced team, work relentlessly to make this happen using their vast knowledge base and strong relationships with insurance providers. Never losing site of our Core Values.