Unusual Occupations Property Insurance
Protect What's Important
Unusual Occupations Property  Insurance
Some professions and occupations are deemed to be "unusual" by the big insurance companies. As they don't tend to understand what is involved, or recognise that individuals within these occupations can have very different insurance needs, they often clump them all together as "difficult". This, then pushes up the premiums charged for household insurance (contents and / or buildings).
Such occupations include people like:
Musicians
Actors
People in the media
Professional sportspeople
Jewellers
At Fairweather Insurance, we have insurance experts who will look at each person's individual requirement and find the right insurance for them. The aim is have all the necessary insurance cover in place, for a very competitive price.
So if you are deemed to be in an unusual occupation, and you are struggling to get good property insurance (contents and / or buildings), then do get in touch with our friendly, professional specialists who are here to help with all your insurance needs regardless of how complex they are.
At the heart of every policy, is a personal relationship, built on a foundation of honesty, integrity and professionalism.
We See People, Not Policies.
OUR HEAD OFFICE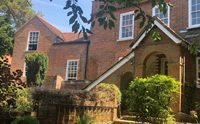 Monday – Friday:  9.00 AM – 17.00 PM – We also provide 24/7 out of hours answering service.
Why Choose Fairweather Insurance?
At Fairweather Insurance, we pride ourselves on providing an Outstanding Service with a Personal Touch. We have been finding solutions to even the most complicated insurance requirements for over 35 years now.
Our experienced team, work relentlessly to make this happen using their vast knowledge base and strong relationships with insurance providers. Never losing site of our Core Values.