Professional Services Insurance
Protect What's Important
Professional Services Insurance
At Fairweather Insurance, we know how important it is for you to protect both your company and the individuals and decision makers working within it. As errors and omissions are increasingly leading to financial loss throughout various industries, it has never been more vital that you have appropriate cover to stop the bill ending up at your door.
We have access to a number of market leading insurance products to cater for all kinds of trades, organisations, clubs and associations.
Types of cover available include:
Professional Indemnity Insurance
Directors' and Officers' Liability Insurance
Trustee Indemnity Insurance
Professional Indemnity Insurance
Professional Indemnity will protect you as a sole trader or your company from having to pay substantial claims as a result of errors and omissions that may have occurred. Any business where professional advice, design or clerical service is offered will have an exposure in this area, so it is well worth talking to us to see how this can be protected.
Directors' and Officers' Liability Insurance
Directors' and Officers' Liability insurance is traditionally issued in the name of the business and, as the name suggests, protects directors, officers and people in a position of responsibility / decision makers from claims arising from professional negligence which are brought against an individual rather than the company.
Again, we would encourage you to contact our commercial insurance team to discuss the options available and how we can help.
Trustees Indemnity Insurance
Similarly, whether you volunteer at a sports club or are a member of a Residents Association, you will be exposed to inherent legal responsibilities which, if not properly catered for with appropriate insurance, could lead to claims being brought against you personally. Trustees Indemnity insurance can be arranged to protect the legal liabilities of these individuals.
Do you need Professional Services Insurance? Our friendly, professional specialists are here to help with all your insurance needs regardless of how complex they are.
At the heart of every policy, is a personal relationship, built on a foundation of honesty, integrity and professionalism.
We See People, Not Policies.
OUR HEAD OFFICE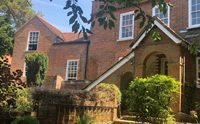 Monday – Friday:  9.00 AM – 17.00 PM – We also provide 24/7 out of hours answering service.
Why Choose Fairweather Insurance?
At Fairweather Insurance, we pride ourselves on providing an Outstanding Service with a Personal Touch. We have been finding solutions to even the most complicated insurance requirements for over 35 years now.
Our experienced team, work relentlessly to make this happen using their vast knowledge base and strong relationships with insurance providers. Never losing site of our Core Values.