Commercial Insurance Packages
Protect What's Important
Commercial Insurance Packages
We often find that businesses and organisations are not properly insured, and are also paying for insurance they don't require. This can happen if your broker is not in regular contact with you or reviewing your insurance requirements at regular intervals.
Through our experience and relationships, we are able to provide an extensive range of package policies including :
Offices
Shops
Restaurants, pubs and hotels
Surgeries
Care homes
Working from home
These policies are arranged through reputable UK-based insurers. They typically include stock, fixtures and fittings, tenants' improvements, contents (including computer and IT equipment), as well as standard money, goods in transit, business interruption, public / products liability and Employers' Liability covers.
The limits within the policy sections can be adjusted, and we will ensure that you are provided with a tailored policy that meets with your individual requirements.
We are adept at providing streamlined packages for trades such as: plumbers, electricians, builders, HVAC engineers, gas engineers, carpenters, cleaners, and so on.
For some commercial insurance needs we can determine your needs and recommend policies over the phone. For other, more complex requirements, we will come and visit you to ensure the policy we arrange reflects your needs and does not include any unnecessary covers.
Are you getting the best from your commercial insurance? Contact us today to find out… Our friendly, professional specialists are here to help with all your insurance needs regardless of how complex they are.
At the heart of every policy, is a personal relationship, built on a foundation of honesty, integrity and professionalism.
We See People, Not Policies.
OUR HEAD OFFICE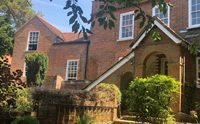 Monday – Friday:  9.00 AM – 17.00 PM – We also provide 24/7 out of hours answering service.
Why Choose Fairweather Insurance?
At Fairweather Insurance, we pride ourselves on providing an Outstanding Service with a Personal Touch. We have been finding solutions to even the most complicated insurance requirements for over 35 years now.
Our experienced team, work relentlessly to make this happen using their vast knowledge base and strong relationships with insurance providers. Never losing site of our Core Values.