Commercial Insurance
Swift Response. Outstanding Service
Commercial Insurance
Fairweather Insurance is a fully independent insurance broker devoted to delivering outstanding professional services with a personal touch for all your commercial insurance needs.
Making sure you have the right commercial insurance cover means working with an experienced specialised broker with access to all the right policies.
At Fairweather Insurance, we are here to help you get it right first time, and at the right price.
Our priority is to ensure you are correctly insured even for the most difficult cases, particularly if you or your company have unusual requirements or a history of claims. With links to all the key insurance providers, we are able to offer you a comprehensive range of policies, many of which are not available online or to other brokers.
If you are based in or near Gerrards Cross, Chalfont St. Peter or Chorleywood or wider afield in Buckinghamshire, Hertfordshire, Berkshire, London and Middlesex, then we can offer a truly outstanding service with a personal touch. We are even able to visit you at home or at your company to fully understand your requirements.
At the heart of every policy, is a personal relationship, built on a foundation of honesty, integrity and professionalism.
We See People, Not Policies.
Are you getting the best from your insurance? Contact us today to find out… Our friendly, professional specialists are here to help with all your insurance needs regardless of how complex they are.
There is no obligation and we will be pleased to advise and guide you before making your commercial insurance decisions.
OUR HEAD OFFICE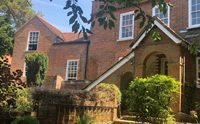 Monday – Friday:  9.00 AM – 17.00 PM – We also provide 24/7 out of hours answering service.
Why Choose Fairweather Insurance?
At Fairweather Insurance, we pride ourselves on providing an Outstanding Service with a Personal Touch. We have been finding solutions to even the most complicated insurance requirements for over 35 years now.
Our experienced team, work relentlessly to make this happen using their vast knowledge base and strong relationships with insurance providers. Never losing site of our Core Values.